Light Pack
2,5 uur
✓

Inclusief 200 kogels

✓

Gratis kluisjes

✓

Gebruik konijnenpak
Boek
Normal Pack
2,5 uur
✓

Inclusief 400 kogels

✓

Gebruik kluisjes

✓

Gebruik konijnenpak
Boek
Extreme Pack
2,5 uur
✓

Inclusief 550 kogels

✓

Gebruik kluisjes

✓

Gebruik van Safety Pack

✓

Gebruik konijnenpak

✓

Gebruik van Extreme Gun
Boek
Termination Tournament
3 uur
✓

Paintball + 200 kogels

✓

Archery tag

✓

Airsoft + onbeperkt kogels
Boek
Fundustry Deal XXL
Meest populair!
✓

Ontvangst met koffie & muffin

✓

Paintball met 200 kogels

✓

1 extra activiteit naar keuze

✓

BBQ (do it yourself) + 2 drankjes
Fundustry Deal TOP
Compleet pakket!
✓

Ontvangst met koffie & muffins

✓

Paintball met 200 kogels

✓

2 extra activiteiten naar keuze

✓

BBQ (do it yourself) + 3 drankjes
---
Deze bedrijven zijn al fan!
---
Beleef een epische strijd!
Coronaproof Paintball op 1.5 meter
Een potje paintball gaat altijd op veilige afstand. Binnen 5 meter mag je niet schieten op je tegenstander uit veiligheidsoogpunt. De kleedkamers en uitlegzones zijn aangepast naar veilige omstandigheden. Met speciale lijnen organiseren we een duidelijke afstand tussen deelnemers en de instructeur. Maskers en wapens worden extra goed schoongemaakt en ontsmet na een paintball evenement.
Outdoor Paintball
Outdoor paintball is de uitdagende en realistische vorm van paintball. In de frisse open lucht is er veel ruimte om te duiken, rennen en schuilen. Op het paintballveld liggen talloze objecten klaar waar je dekking kunt zoeken en tactisch je tegenstander kunt flanken. Klim in een uitkijkpost om je teamleden dekking te geven of tijger door enorme rioolbuizen om je tegenstanders te verassen. Maak je in ieder geval klaar voor een onvergetelijk potje paintball!
Indoor Paintball
Te koud voor outdoor paintball? Dan kom je lekker paintballen op onze indoor locaties! Fundustry heeft 2 indoor paintball locaties in Nederland en België. Ongeacht de weersomstandigheden is het dan altijd mogelijk om te komen paintballen! Kom langs op onze locaties in Antwerpen of Rotterdam.
Paintball Locaties
De locaties in Nederland en België om te paintballen.
---
Paintball Cadeaubon
Wil je dit uitje graag cadeau geven aan iemand? Dat kan! Bestel nu een cadeaubon voor een knallend paintball uitje vol actie. Je kunt kiezen uit verschillende kogelpakketten. Direct na het bestellen en betalen ontvang je de tegoedbon in je mailbox. Deze kun je digitaal versturen of uitprinten en afgeven aan de gelukkige ontvanger. De ontvanger kan op fundustry.nl/cadeaubon-boeken zijn cadeaubon verzilveren in slechts een paar stappen.
---
Tijdsduur van 2,5 uur is de maximale tijd dat je mag spelen. Uiteraard mag je ook eerder stoppen als je kogels op zijn, of als je te uitgeput bent voor nog een ronde.
Safety Pack inhoud (t.w.v. €15,-):
Nekbeschermer
Handschoenen
Bodyprotector
Onze coronaproof locaties
Op al onze locaties is de aankomst van groepen volledig afgestemd op de capaciteit van het gebouw. Gedoseerd worden jullie toegelaten tot een ruime ontvangstruimte waar je rustig in alle ruimte kunt plaatsnemen voor de ontvangst. Jullie drankjes en hapjes serveren we momenteel niet, maar plaatsen we op de bar. De tafels zijn extra ruim opgezet en de toiletten hebben een speciale wachtrij en worden extra vaak schoongemaakt.
Upgrades
Prijzen van de upgrades en extra paintballs
100 extra kogels – € 17,50 p.p.
Safety Pack – € 7,50 p.p.
Extreme gun – € 7,50 p.p.
Veel gestelde vragen
Is paintballen een sport?
Oorspronkelijk komt paintball uit de Verenigde Staten, waar het in de jaren 1970 eigenlijk bedoeld was om bomen en vee mee te markeren. Niet echt een sport toch? Maar zoals zo vaak, kwam er later iemand op het idee om heel wat anders te gaan doen: in 1981 organiseerden daarom 3 vrienden in New Hampshire het eerste paintball gevecht!
Hoe duur is paintballen?
Paintballen bij Fundustry hoeft zeker niet duur te zijn. Je kunt al paintballen voor 29,95 per persoon!
Waar kun je paintballen?
Bij Fundustry kun je paintballen op verschillende locaties zoals: Eindhoven, Rotterdam, Nijmegen, Hardewijk, Gouda en Antwerpen!
Hoe lang duurt paintballen?
Een potje paintballen duurt maximaal 2,5 uur. Bij Fundustry heb je de keuze uit 200, 400 of 550 ballen. Er is ook altijd de mogelijkheid om je munitie uit te breiden.
Hoe moet je paintballen?
Paintballen is eigenlijk heel simpel! Je trekt je uitrusting aan, krijgt een wapen en je kunt beginnen. De regels zijn afhankelijk van welke gamemodus je speelt. Bekijk snel alle paintbal games!
---
Boek Paintball
Het leukste shooting uitje boek je snel en gemakkelijk. Direct een datum reserveren en betalen, meteen klaar voor het leukste dagje uit! Heb je een cadeaubon gekregen? Dan kun je de ontvangen code tijdens het boeken invullen. Boek dan het juiste uitje waar je een cadeaubon voor hebt. De prijs wordt dan automatisch verrekend.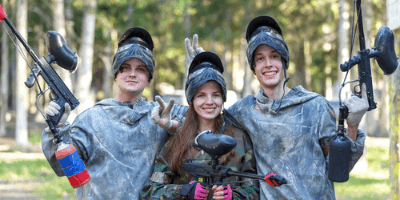 Is je groep te groot om te boeken?
Vraag dan een offerte aan!
Boek Cadeaubon Paintball
Op zoek naar een leuk cadeau? Ga voor een cadeaubon om te paintballen, kies voor het light (200 kogels), medium (400 kogels) of extreme pack (550 kogels) en verras je vriend(in) met een leuk uitje! Gemakkelijk en snel bestel je een cadeaubon, even afrekenen en binnen 2 minuten een mooie cadeaubon in je mailbox. Klaar om uit te printen en cadeau te geven! Wie ga jij verrassen met dit knallende uitje in de paintballarena?!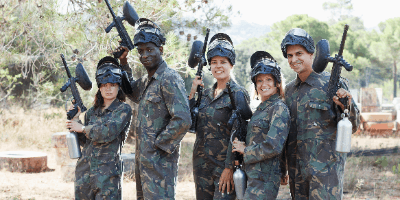 ---